Startup Acceleration,
Personalized.
Go faster with proactive support every step of the way.
High Touch Defines the Membership Experience
From your first touch point with FN to your next startup and in-between, you'll feel supported with personalized, high-touch and proactive support from the Member Success Team.
Approval Process

We'll personally screen your application and notify you of the Membership Committee's decision.

Cohort Orientation Call

Drink the FN Kool-Aid of our shared vision, values and ground rules on our group call.

Community Introduction

We'll personally introduce you to all 600+ members in FN.

1-1 Onboarding Meeting

We'll setup a call where you tell us about your background, startup story, and future goals. You talk. We take notes (and follow-up).

Profile Updates

We'll keep your profile current for you.
Forum Moderation

We'll review your posts for grammar and ensure they conform to guidelines.

Membership Reviews

Stay on track with proactive 1-1 calls to clarify, track and update your objectives.

Warm Introductions

Thoughtful intros to people we think can help (and you'll click with).

Chair Roles & Awards

We recognize top contributors each week and support formal leadership roles.

Recommended Events

With 100+ events a year, it can be hard to keep up. We'll shoot you a note about events we think are relevant for you.
"The thing I like the most is the high-touch service."Matias Klein, Founder of Kognition
Personalized Onboarding
Everyone founder is unique. That's why we conduct a 1-1 personalized onboarding to kick-start your first 30 days with one-to-one attention from our Success Team. We take the time to get to know you personally, from where you grew up to how you got here and where you want to go next. We believe this lays a solid foundation for building a long-term relationship.
Membership Reviews
It's easy to get distracted when you're inside the tornado of launching and scaling a startup. That's why we make time every week to monitor your engagement and reach out as needed to clarify, track and update your objectives -- then follow with warm introductions to members, partners and investors who can help.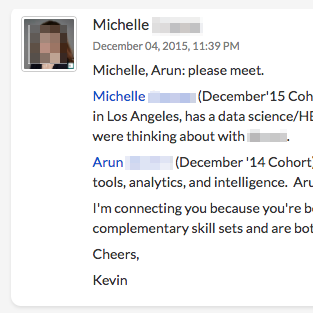 A Curated Experience
With 600+ energetic founders participating in hundreds of forum threads and events, it can be difficult keeping track. Our Success Team will make sure you get a personal note about the threads, events, deals and new members who we think are particularly relevant to you.
"I really like the high level of responsiveness whenever I need to reach out and engage with anyone at Founders Network."Angel Gambino, Founder & CEO of Sensai, WIRED Top 100 Executive
Want to go faster?

Request an invite and we'll get back to you with next steps.